COERR Mae Sot has been providing the community-based waste management in Ban Mae La camp to achieve its objective of minimizing the waste at the least amount as possible, before they go to the final process of disposal.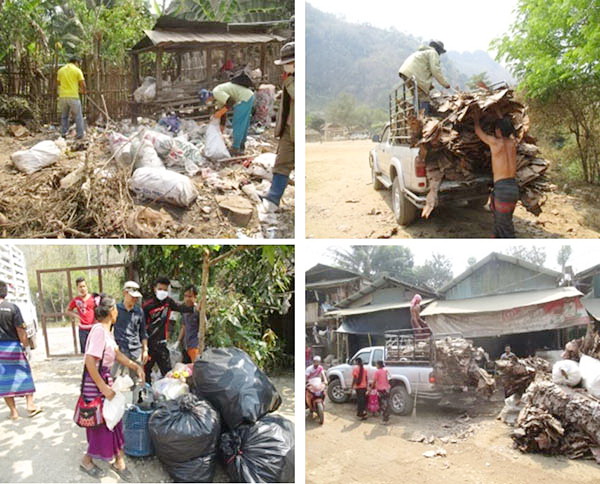 Landfill area: Garbage collected are sorted for reuse and recycling by COERR volunteers. Recyclable materials are sold to enable volunteer refugees to generate some income. This process also helps minimize the amounts going to be incinerated or landfilled. Meanwhile waste water treatment using cattail pond has continued.
Incineration: Garbage are incinerated by three incinerators at their highest efficiency of 800 - 1,000 °C. Maintenance of the machines is crucial to make sure that they work fast and well.
Eco friendly Housing: COERR staff paid monthly visit to refugees' e-co houses under the Eco Friendly Houses Program. During the visit, staff provide basic knowledge about how to keep their house clean; how to do garbage separation in proper way to minimize waste, generate income from selling recyclable materials; benefits from doing kitchen gardening; how to use resources wisely and savely. Refugees are glad to join the Eco Friendly households, in which they can improve the environment and enjoy some benefits such as having kitchen gardening. Vinile campaign is given to propagate further knowledge about environmentally friendly activities. Necessary tools such as brooms and watering cans are given to houses with kitchen gardening for their daily use.
Waste Bank Project The project allows refugees to become members in order to learn about garbage separation and generate income for their family from selling recyclable waste. They were also trained to understand and realize how some kinds of used materials can be reused or transformed to become raw material in another line of production. The success of the waste bank project is that members, even children are eager to learn about proper garbage separation and, sell some used materials for income. Another benefit is that the more garbage being collected and sorted, the less garbage remaining in the public areas and roadside.
Clean up Day for Mae La Camp On March 22, 2016, COERR and concerned organizations in Mae La, organized the Clean up Day for Mae La Camp in which 80 refugees, 46 female and 34 male, were participating to be trained about how garbage in the river, being thrown in the waterway by people living near the river and make water pollution and visual pollution, can affects their community and become the mosquito breeding sources that cause mosquito borne diseases like Denque fever, etc. Then they all helped collecting garbage from the river to make the river and camp cleaner. The feed back from participants was that they would launch a campaign to raise awareness of their community members to be aware of danger from water pollution, and that they should throw litter in garbage bins provided for them.
Training: COERR staff continue to provide training about community-based waste management for proper operation and safety of the concerned parties. Staff and volunteers are requested to become model for the community in doing garbage separation at the office and becoming Environmentally-friendly members at home, in which the contents are about keeping their house clean, having proper garbage separation, growing vegetables or flowers in their garden and providing needy tools such as brooms and water cans for other needy houses.