Saturday Activities' theme: "We Play, We Learn, and We Grow together", is planned and implemented by COERR during April – June 2016 with an aim that refugee children should be learning with fun.
Therefore, easy beansprout growing is taught for children's leaning and for their household consumption. The training activity was organized in Ban Mai Nai Soi camp for the first group on April 30th with 67 participants of 29 girls and 38 boys.
The second group was trained on June 18th with 40 participants of 16 girls and 24 boys.
After the successful courses, children were asked of what they would like to know more. Their answers were they would like to learn about other familiar items like soap making and dish washing liquids in the future.
The second Bean Sprout Growing took place on June 18, 2016 for 40 children: 16 girls and 24 boys
Registration and playing before learning

Children are now ready for listening to the next activity: Bean sprout growing
Materials for Bean Sprout Growing: empty bottles, beans and cutter

Children are divided into groups and demonstration of cutting the bottle for children to carefully follow
Demonstration of putting beans and watering daily After 3 days of daily twice-watering, bean sprout are growing and become available for cooking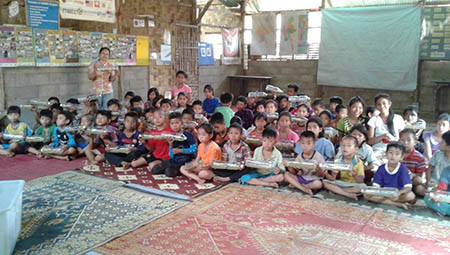 Children with mung beans in the bottles which will be germinating and becoming bean sprout in 3 days