Face Mask Strap Making Training was held in Ban Tham Hin Temporary Shelter in Suan Phueng District of Ratchaburi Province on October 25, 2021 in which children, youth and elderly numbering 100 persons of 69 females and 31 males attended. Due to the pandemic situation, the training was organized at home for 9 small groups.
Basketry Weaving Training was held in Ban Don Yang Temporary Shelter in Sangkhlaburi District of Kanchanaburi Province on October 8th and 22nd, by the elderly group together with the youth group in their intention to preserve the basketry weaving technique for household use. There were 39 participants of 18 females and 21 males.
Traditional Food Cookingwas trained in Ban Tham Hin on October 25th, for youth who were interested in making rare recipe which were served only in special ceremonies.
Broom Makingwas organized in Ban Don Yang on October 9th, 16th and 23rd. There were 100 youth of 69 females and 31 males participated, divided in each small group of not more than 15 persons.
Face Mask Strap Making for youth in Ban Tham Hin Temporary Shelter

Elderlies were seen training EVIs and Youth in Basketry Weaving at Ban Don Yang Temporary Shelter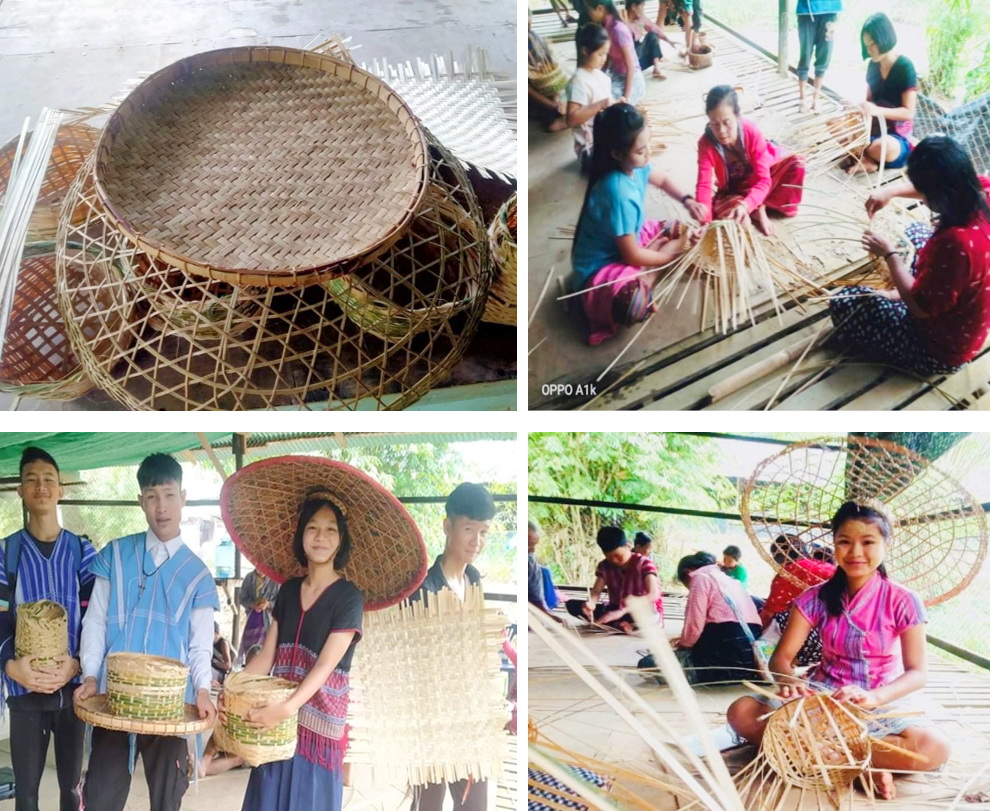 Elderly were seen training Traditional Food Cooking to Youth at Bam Tham Hin Temporary Shelter