In February 2021, COERR Mae Sot continued to organize training on Waste Management and Garbage Sorting, to school children, adults, staff and volunteers in three Temporary Shelters as follows:
Ban Mae La Temporary Shelter in Tak Province's Ta Song Yang District On February 18th; a Capacity Building training for staff and volunteers on Garbage sorting was organized, aiming at keeping environment clean and ensuring safety for staff who work in waste management areas. There were 26 staff, workers and volunteers consisting of 4 female and 22 male, attending the training.
Later, on February 23rd -24th, there was an awareness raising training in Safety Precaution in Waste Handling and Collection Training for 100 participants of 74 female and 26 male, so that they could transfer the knowledge of waste management to neighbors for the cleanliness of community.
In Ban Umpiem Temporary Shelter Phop Phra District, Tak Province, a training was provided on February 9th for children and youth numbering 30, of 18 female and 12 male in Child Friendly Space to understand about types of garbage, and sorting in order to reduce amount of garbage in the communities.
There was also a training of Trainers on 3R: reduce, reuse and recycle, on February 25th and March 1st, for volunteer trainers to understand and to teach others in their communities. 15 volunteer trainers of 10 female and 5 male participated in the training.
In Ban Nupo Temporary Shelter Umphang District, Tak Province there was a garbage separation class for 47 children of 30 girls and 17 boys; and 3 days Environmental Education classes in 3 High Schools in which 390 school children of 300 female and 90 male attended. The trainee learned about the importance of 3R principle in waste management, that not all waste were garbage, some waste materials can be reused and recycled. Some waste can be sold and exchanged for money such as plastic and glass bottles. It is also wiser to use cloth bags or bamboo woven baskets, that can be reused many times, instead of plastic bags.
Capacity Building for Karen Environmental and Waste Management Group at Ban Mae La on February 18, 2021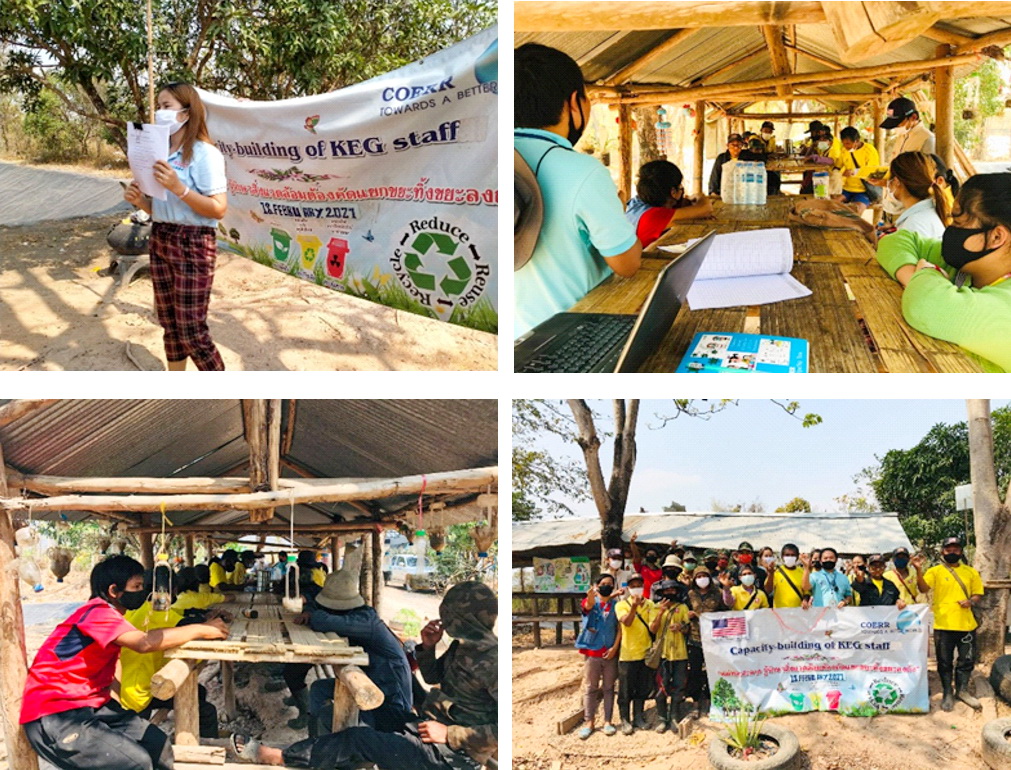 Safety Precaution in Waste collection training during 23-24 February 2021 in Ban Mae La temporary shelter
for 100 workers and volunteers
Garbage Separation Learning in Child Friendly Space in Ban Umpiem for 30 children
Training of 15 Volunteer Trainers on February 25th and March 1st , 2021
Environment and Waste Separation Education for school children numbering 390 in Nupo Temporary Shelter,
during February 23rd -25th, 2021