COERR Mae Sot promoted "Developing Peer Support for EVIs" in Umpiem Temporary Shelter, Phop Phra District, Tak Province. On June 16, 2020, COERR organized the Traditional snack "Samosa", making activity in which the displaced people who had come from the same or nearby home villages gathered to help each other to acquire the income-generating skills in making this traditional snack, in order to help themselves, their families and their community to become self-reliant and strengthened. The aim is to end poverty, on the basis of reducing expenses, increasing income and searching for better opportunity to earn for living, especiallay for the extremely vulnerable individuals (EVIs), so that they can be more united and related to each other and to their homeland, where they came from. Thus, the livelihood training activity through loving and sharing had 30 EVIs. of 26 female and 4 male participated.
Alcohol gel making for vulnerable youth was organized in Ban Mae La Temporary Shelter, Tha Song Yang District, Tak Province, on June 10, 2020, had 60 young participants of 32 female and 28 male to come to learn how to make alcohol gel for household use so as to reduce expenses, and to make a possible income generating task.

Hand wash liquid soap making was organized for youth in Ban Umpiem Temporary Shelter during June 10-12, 2020 had 50 youth of 29 female and 21 male participants. They were convinced how washing hands with soap was necessary for health and that making liquid soap for household consumption help them reduce expenses and lead to a possibility to become an income generation.
During COVID-19 Pandemic, there was a measure to prevent the spreading in which people were told to stay at home. However, as schools were about to open, some children who could not wear their old small uniform need to have new uniform or to wear Karen clothes to go to school. COERR, therefore supported Youth in Ban Nupo Temporary Shelter who were eager to participate in Karen traditional clothes weaving to learn how to make their own clothes to wear, instead of spending money on a new uniform. They also learned that they could weave many kinds of traditional outfits such as blouse, shirt, dress, sarong, bag, scarf, etc. which they could make a living in the future. The Karen traditional clothes weaving workshop was organized on June 11-12, 2020 in which 50 youth of 36 female and 14 male participated.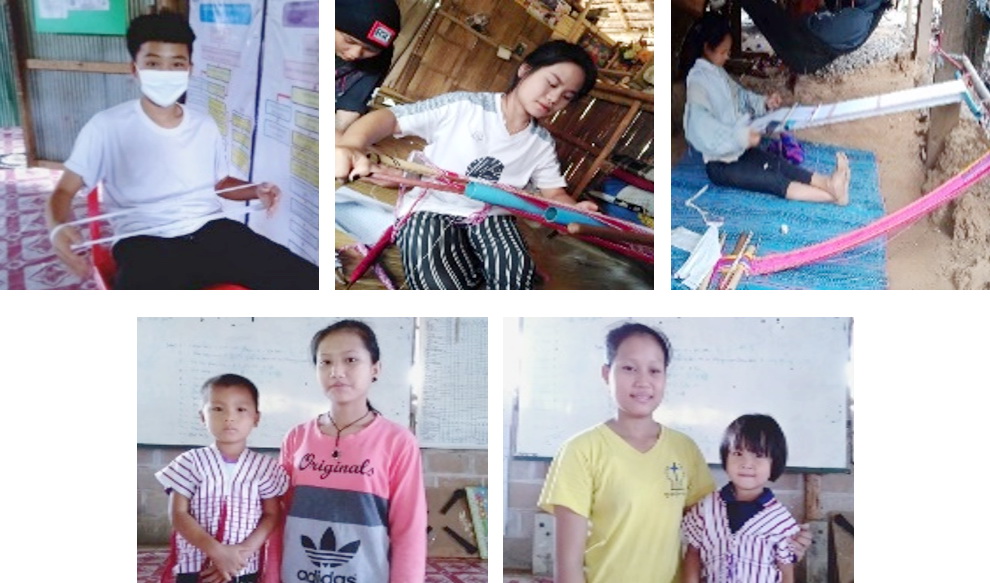 COERR also organized workshop for elderly in all three temporary shelters to produce balm for their own use. The elderly were easily sensitive for climate change, smell, smoke, etc. in the surrounding that caused headache, dizziness, or faint. Many also suffered from muscle pain, back, waist, or knee pain, numbness, crampt, bruise, etc.
Balm can be inhaled as well as applied to the skin to relieve those symptoms.
Balm making workshops were organized by COERR on June 15, 2020, in Ban Umpiem Temporary Shelter, in which 20 elderly of 4 female and 16 male attended; on June 24, 2020 in Ban Mae La Temporary Shelter, in which 40 elderly of 32 female and 8 male attended; and on the same day in Ban Nupo Temporary Shelter, in Tak Province's Umphang District, in which 20 female elderly attended.
Balm Making at Ban Umpiem

Balm Making at Ban Mae La

Balm Making at Ban Nupo