Fire hazard is a most dangerous hazard. It happens many times a year in the temporary shelters along the border. Each fire could cause a lot of damages and loss of properties, and even lives. COERR realized the significant of fire prevention management to reduce damages and loss, and have provided awareness raising activities for community safety.
The activity usually focused on community participation to learn and understand how to solve the problem by using their own wisdom and leadership skills to handle the situation so that they could be able to save lives and properties before expecting outside assistance.
Througout April and May of this year, while COVID-19 prevention measure was prevail, COERR deemed it necessary to support youth volunteer groups to conduct awareness raising campaign to the communities. The group visited and provided knowledge about disaster preparedness, especially fire, to households in many sections.
COERR Mae Sot organized disaster risk reduction and fire prevention in Ban Nupo in Umphang District during April 7-9, 2020, in which there were 648 beneficiaries, of 366 female and 282 male; in Ban Mae La, Tha Song Yang District during April 17-18 and 20-23, 2020 for 137 beneficiaries, of 13 female and 124 male; and in Ban Umpiem, Phop Phra District of Tak Province for 218 beneficiaries, of 120 female and 98 male.
Awareness Raising campaign for Fire Prevention Poster to be placed in Ban Mae La,
Ban Umpiem, Ban Nupo, as well as all Temporary Shelters
Awareness Raising campaign in Ban Umpiem during April 27-30, 2020 in which 20 youth volunteers walked to elderly houses in Section 1, 2, 3, 4, 5, 11 and 13 to discuss with elders about how to prevent fire such as, to inform the elderly that they should put out the fire in their stove after cooking, sand bags and water bags should be available for prompt use in case of fire, incense and candle have to be put out before they go to sleep; water bucket should be filled for use. Water bags and sand bags were provided for households that lacked. Youth also shared information with the elderly about how to take care of themselves during COVID-19 as follows: eating cooked food; drinking boiled water; keep social distancing; wearing mask when going out; having enough sleep, and relax, etc. 220 elderly were benefited in this campaign.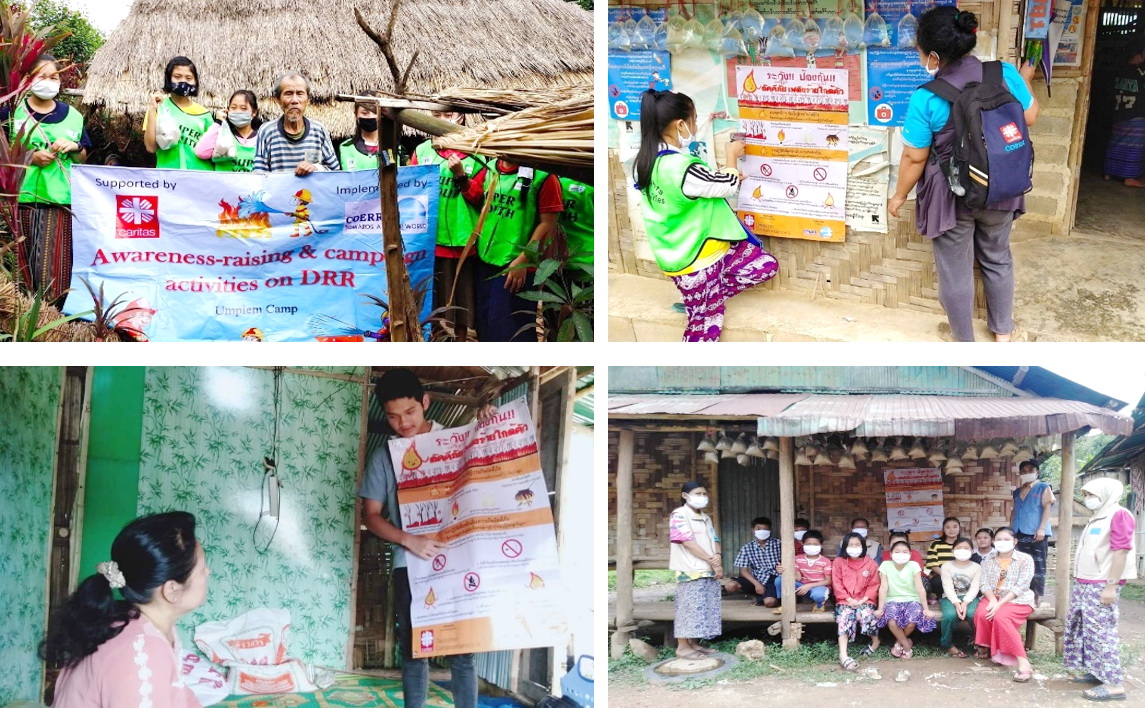 Campaign Activties in Ban Nupo Shelter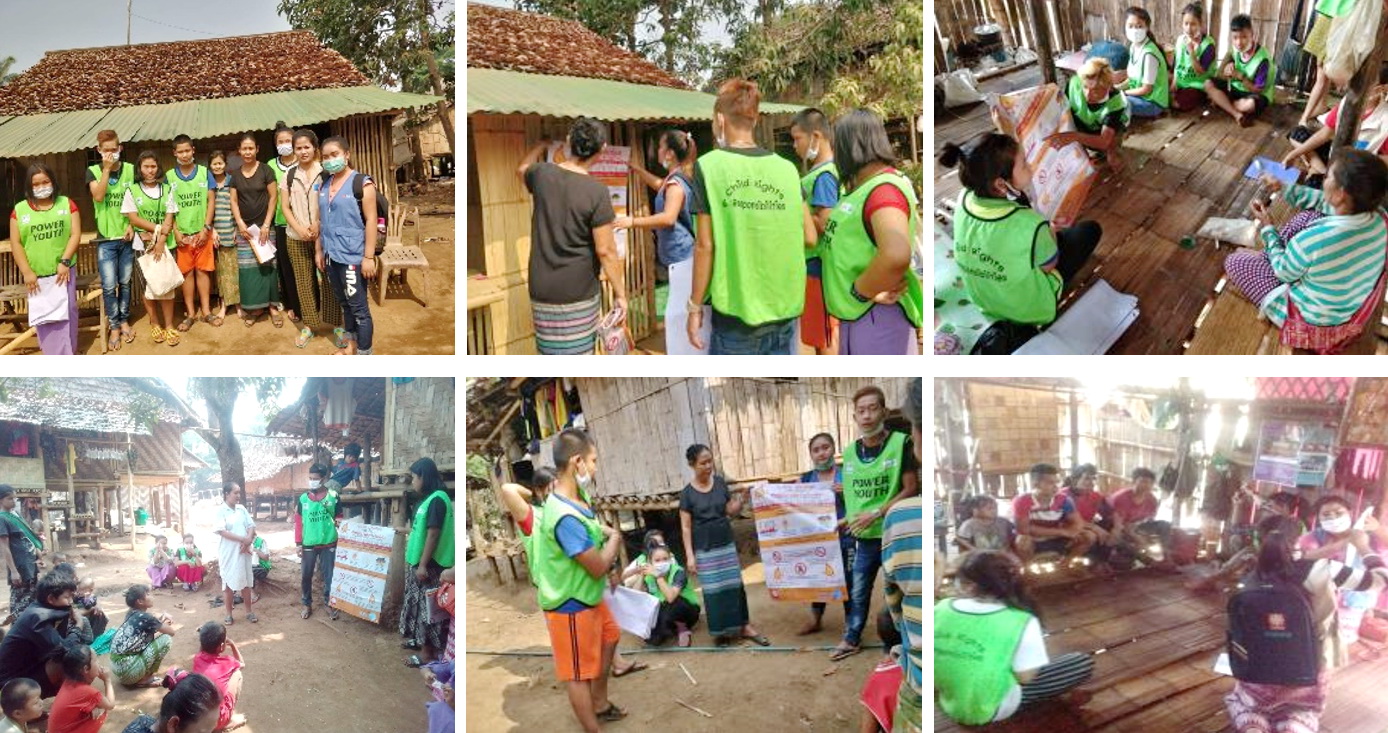 COERR Mae Sot also supported fire-fighting tools such as fire hooks, paddles, rakes, fire extinguisher tanks to fire fighting teams in Ban Mae La, Ban Umpiem and Ban Nupo Shelter during April-May.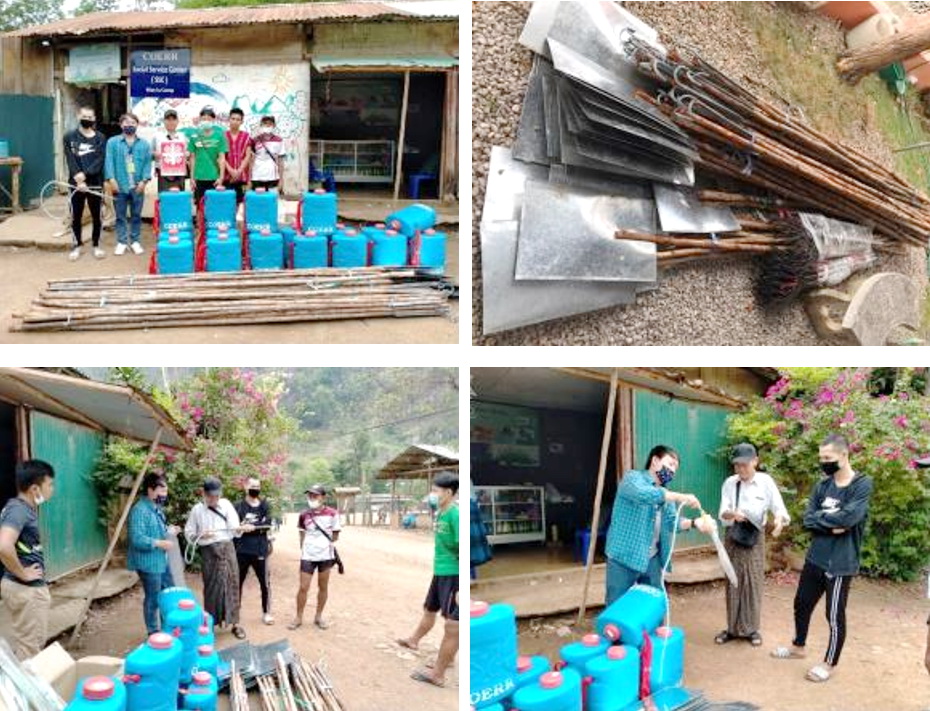 COERR Mae Hong Son also supported Fire Prevention by distributing fire extinguishing tools such as brooms, watering cans, water buckets; materials for fire station repair such as galvanized sheets, wire, nails, iron nets, etc. , for the fire fighting teams in Ban Mai Nai Soi and Ban Mae Surin in Mae Hong Son Province.
COERR Kanchanaburi supported construction materials to repair a Fire Station, in Tham Hin Shelter, in which extinguishing tools and materials will be kept for emergency use.
Galvanized iron sheets were distributed to make fire paddles for putting out fire on the roof. Water and sand in plastic bags for putting out fire were also provided to the needy household. Fire hooks for taking the grass roof down to prevent fire spreading were also distributed.

As planned, Fire Awareness and Prevention Posters were placed on the wall in each sections and important places in Ban Don Yang and Ban Tham Hin Shelters. In May, information sharing using Public Address System to remind community members of disaster risk reduction and to invite public participation by designing more awareness raising media.
A Fire Awareness Raising Poster placed in Ban Don Yang Temporary Shelter
Fire Awareness Raising Posters placed in Ban Tham Hin Temporary Shelter