On August 22, 2015, a Saturday Activity was organized for 37 refugee children in Ban Mai Nai Soi camp, Mae Hong Son's Muang District. The activity consisted of the knowledge about growing vegetables for family consumption and for others.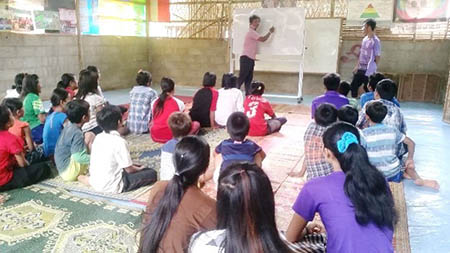 The Process of Learning was that COERR Agriculture staff explained in theory about soil preparation, compost making, seed cultivation in tray and in pot and daily watering. After the theory was explained, the children started to practice by sowing chilli and lettuce seeds in the tray, and sowing onion seeds in the pot.
Then they were allowed to bring the pot home. They were told to water the pot every morning and afternoon and observe the germination. This duty will give them responsibility and pride to take care of their own vegetables which will be their meals.
Putting fertile soil in the tray and making several holes in the soil for placing seeds
Carefully sowing seeds in the bed and pot, one by one
5 days after sowing seeds, small plants are germinating from seeds
Children are having fun during their vegetable growing activity and they are happy to bring them home and take responsible in watering; see them grow into seedlings and grow up to be the food for their family. They are also glad to know that some vegetables they grow will be given to the elderly later.
Kamila, 14 years old, has joined the Saturday Activity and taken good care of the onion. Kamila feels happy to see the onion growing every day. She has responsibility to water it morning and afternoon. She feels proud of herself.
When the chili and lettuce seeds, sown by the children, germinate and grow into seedlings, COERR will organize the elderly activity day and has elderly refugees transplant the seedlings into bags and bring them home to grow and become food for their family in the future. While the rest of the seedlings will be under staff care and, when fully grown, will be distributed by COERR community service workers to the elderly and sick people during home visits.