Since the beginning of this year, COERR Mae Hong Son, together with concerned organizations and refugees in Ban Mae Surin camp and Ban Mai Nai Soi camp, implement the disaster management and fire prevention measure through preparedness training, mini-fire station maintenance, installation of fire extinguisher equipment for prompt use, including evacuation drill to safe location in case of big fire event.
The use of firefighting equipment in the mini fire-station: fire extinguisher, backpack pump sprayer, fire swatters, fire hooks, rakes, etc. has proved very beneficial in the successful fire extinguishment on at least 3 occasions. When the fire broke out in Ban Mae Surin on January 21st and February 3rd, and in Ban Mai Nai Soi on February 17th, volunteer refugees who have been trained by COERR rushed to get these tools and hurriedly put out the fire before it spread to neighboring houses. Only one house which was fire source was destroyed in the fire.
Picture taken on January 21th when fire breaking out in Ban Mae Surin camp was immediately put out by refugees who have been trained by COERR. Then moral support and relief supplies had been provided.
On Friday 3 April 2015, a fire evacuation drill has taken place in Ban Mai Nai Soi camp as assigned by the Provincial governor to prepare response to the emergency fire situation. The drill was coordinated with all stakeholders, NGOs, camp committee, community, Ministry of Interior, police and military staff to locate safe zone in each camp section. Despite all measures and prevention, there was a fire breaking out at Ban Mai Nai Soi Refugee Camp, Mae Hong Son Province's Muang District, on Tuesday, April 7, 2015, at 11.00 A.M. The fire was spreading wider and faster that it took 3 hrs. to be eventually put out. 186 houses were totally burned down while 39 houses were partially burned and 1,065 refugees were affected.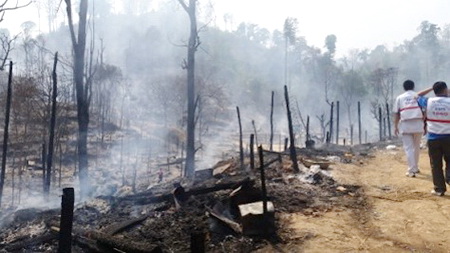 COERR participated in the daily coordination meeting among all organizations concerned to ensure the efficient and effective delivery of relief supplies to the affected fire victims.
COERR played a leading role in providing non-food items. We worked closely with Karenni Refugee Committee and Ministry of Interior to survey the damages and emergency needs. We also shared the information to all concerned agencies to fill in the gaps of needy items. Most common items are clothing, kitchenware, supplies for babies and elderly.
Information board on Non-Food Item distribution update at the special operation unit for coordination among organizations, visitors and donors
COERR provide emergency relief support to fire victims who become homeless and took temporary shelter in COERR office. Our staffs visit each fire victim to identify the Extremely Vulnerable Individuals (EVIs) among them in order to provide them with moral support and counseling as well as refer them to other relevant agencies if needed.
children at the temporary shelter enjoy activities organized by COERR staffs to reduce tension and stress of children who become homeless after their houses were burned.
In May, COERR continued visiting each mini fire station to monitor and replace supplies to ensure prompt use.