The content of this training is based on the safety strategy " Why No Go Tell" networks with the following definitions:
- Why : introducing children to basic skills in assessing situation involving strangers and good judgment of security
- No : Teaching children how to avoid the unsafe situation
- Go : Teaching children to stay away from the unsafe situation and to find a trusted adult
- Tell : Teaching children to report any abuse-effort to trusted adults until help arrives
COERR Mae sot field Office organized Self Protection Training in
Mae La Camp for 300 children, At Zone A on July 20-21, 2012
At Mae La Zone B, on July 18-19, 2012
At Zone C, on July14 and 21, 2012
Self Protection Training at Umpiem Camp on August 2,4,11 and 18
,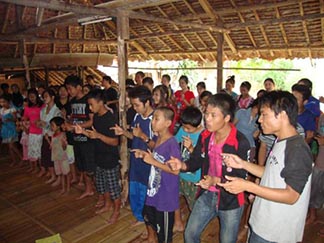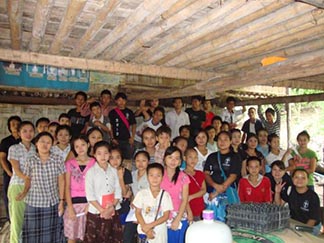 At Nupo camp in Umphang district, on Saturdays, July 14 and 21 and August 11 and 18, 2012, COERR provided the Self-Protection Training for 240 refugee children who were active in learning about security in life and how to avoid becoming victims of the violence or abuses, as shown in the pictures below:
COERR Mae Hong Son's Self Protection Training was held in Ban Mai Nai Soi and Ban Mae Surin camps while COERR Mae Sarieng held the Life Skills Training : "Why, No, Go & Tell" in Ban Mae la Oon camp on July 14, 2012. Three hundred children attending the lifeskills training have acquired the basic skill that build self-worth, self-confidence and good judgment.
In August, COERR Kanchanaburi also organized the Life Skill Training on "SELF PROTECTION FROM SEXUAL ABUSE" for refugee children aged 10-14 in Ban Don Yang camp, Kanchanaburi Province on 11 and 18 August and aged 11-14 in Ban Tham Hin camp, Ratchaburi Province on 4 and 11 August.